New Survey Shows Those with Type 2 Diabetes Struggle to Manage the Condition
— Patients Feel Overwhelmed by Diabetes' Daily Demands —
While people with type 2 diabetes understand what steps are needed to manage their condition, many are challenged by the demands of doing so, according to a new Health Union syndicated research study, Type 2 Diabetes In America.
Respondents used words like "frustrating," "challenging," "annoying," "difficult," and "inconvenient" to describe the condition, which research shows is increasingly prevalent and largely preventable. Many survey participants agreed on the need to be more physically active and make changes in their diet, but reported their condition can be difficult to control. Challenges cited include the use of several medications, dietary restrictions, regular exercise, and other lifestyle changes.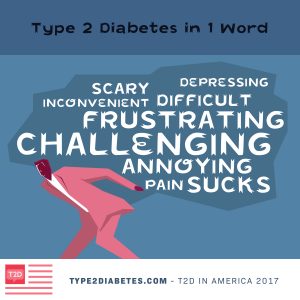 A recent U.S. Centers for Disease Control and Prevention (CDC) report revealed more than 100 million U.S. adults are now living with diabetes or pre-diabetes. According to the CDC, as of 2015, 30.3 million Americans, or 9.4 percent of the U.S. population, have diabetes – with type 2 diabetes accounting for 90 to 95 percent of cases. CDC research also finds another 84.1 million have pre-diabetes, a condition that if not treated often leads to type 2 diabetes within five years.
Patients rely heavily on their healthcare provider's recommendation regarding treatment decisions and changes to treatment plans, according to the survey. Frequent topics of conversation within past six months included:
Goals in managing type 2 diabetes (59 percent);
How/when to take medication (59 percent);
Exercise (58 percent); and
Diet and healthy eating (55 percent).
Most patients surveyed said they have tried to make lifestyle changes since their diagnosis, including reducing sugar intake (81 percent); taking medications regularly (79 percent); counting/reducing carbohydrates (69 percent); and adding/improving regular exercise (51 percent).
Among the biggest obstacles respondents identified to managing their condition were controlling food cravings, exercising, and eating healthy when at someone else's home or at a restaurant.
Nearly all (94 percent) of respondents reported other health conditions in addition to type 2 diabetes, including overweight/obesity (56 percent); hypertension/high blood pressure (55 percent); high cholesterol/triglycerides (49 percent); arthritis (32 percent); and neuropathy (32 percent).
Three-quarters of respondents said they test their blood sugar at least once per day, but among those who test their blood sugar at any frequency, only 54 percent said they were certain they were testing at the appropriate time of day.
Despite undertaking positive actions, many respondents report their belief that family and friends, and often their physicians, don't understand what it's like to have type 2 diabetes and they consequently feel overwhelmed by the demands of managing it.
"There is definitely a misconception that diet causes diabetes and that all a person has to do to 'cure' themselves is to get on a diet, exercise, and lose weight," said Type2Diabetes.com advocate Lizmari M. Collazo. "Type 2 Diabetes In America helps give outsiders a glimpse into how overwhelming this journey of health and management can really be. Seeing its results also provides patients with a feeling of relief when we can relate to the experiences and emotions of others, and thus can find validation in our own."
Type 2 Diabetes In America illustrates the challenges people living with the condition have to face," said Health Union CEO and Co-founder Oliver Chateau. "While many respondents are working with their healthcare provider to actively manage their type 2 diabetes, they also express a desire that their doctors 'look past their numbers' and make a stronger attempt to acknowledge their efforts."
"Only one in three respondents feel in control of their lives or confident in their ability to manage the condition. The survey also points out the impact family and friends can have in achieving positive results through better understanding and support of those affected with the condition," Chateau added.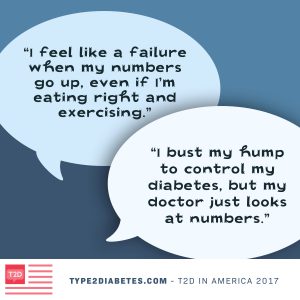 The national survey of nearly 1,600 people diagnosed with type 2 diabetes was conducted June 27-Sept 13, 2017. A summary infographic of the results as is available on Type2Diabetes.com. To request additional details about the survey, email insights@health-union.com.
Explore the latest insights into the lives of people living with type 2 diabetes with information from the Type 2 Diabetes In America 2019 survey.