Patients Who Play an Active Role in Treatment Feel More Confident, Yet Lack Control
When aiming to reach the people who will benefit most from a given medication or therapy, patients who play an active role in treatment decisions are often at the forefront of the conversation. But what does playing an active role in treatment really mean? 
While there is no concrete definition, a meta-analysis of Health Union's 2019 syndicated, condition-specific In America surveys uncovers certain attitudes and behaviors associated with this mindset. 
Nearly 7 in 10* respondents across 18 online health communities (n=30,183) agreed with the statement I play an active role in deciding about treatment for my condition. Demographically, those who agreed were more likely to be female (86%), more likely to be between the ages of 40 and 64 (57%) and more likely to have group health insurance coverage (44%). 
A deeper look at attitudes and behaviors reveals that compared to patients who do not feel they play an active role, those who play an active role are more likely to feel their HCP clearly explains their treatment options (71% vs. 43%)* and are more likely to feel they actively seek out information about the latest condition medications (51% vs. 24%)*. Interestingly, 50%* of respondents who play an active role are confident they are doing all things necessary to manage their condition, yet only 27%* cite a high level of control on their current treatment plan (vs. 15% of their counterparts).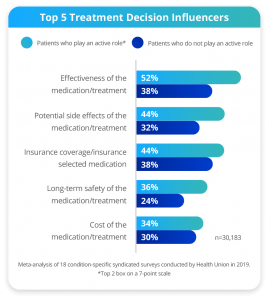 Although the level of control was low among both respondents who do and do not play an active role, it was not for lack of effort. In the past six months at the time surveyed, top medication behaviors for those who play an active role included going online to read other patients' opinions of a medication (35% vs. 29%), visiting a prescription medication's website (31% vs. 24%), and using a financial support program to help pay for a prescription medication (30% vs. 22%).
When it comes to treatment decision influencers, effectiveness is most important to those who play an active role, followed by potential side effects of medication/treatment and insurance coverage/insurance selected medication, carrying even weight as second-most important. Interestingly, for those who do not play an active role, insurance coverage carried more weight than potential side effects.
Patient Experiences Add Depth to the Data
Following this meta-analysis, a 2020 audience quality intercept survey provided the opportunity to better understand what it means for patients to play an active role in treatment from a qualitative perspective. Over 5,300 patients recruited from Health Union's 27 online communities were asked to rank their involvement in their current treatment plan and, in an open-ended response, describe why. 
Analysis of the verbatim responses substantiated the quantitative meta-analysis, with HCP relationship, confidence and higher level of control on one's treatment plan being closely aligned to a patient's perceived involvement in treatment decisions. Patients who cited involvement in their current treatment plan also indicated that they do their own research and employ a holistic approach to managing their condition with prescription medication, complementary therapies and lifestyle changes. 
One patient living with bladder cancer ranked their level of involvement as extremely high, "Because l was included in the decision making regarding what my body needed for comfort from BCG side effects every step of the way. I have felt comfortable about calling my urologist/oncologist whenever l felt the need to do so, and he and his assistants have been there for me every time. l believe that this is what has kept me calm, cool and confident of healing every step of the way during the past eight and a half years." 
Among patients who reported not being highly involved, it was apparent that their HCP offered little to no options, did not listen to their questions, nor solicit their input. These patients also made it clear that their current treatment plan was not effectively controlling their condition. 
A patient living with type 2 diabetes who designated low involvement in treatment decisions noted "I don't fit the 'normal pattern' for a diabetic. My A1c crept up. Doctor said try to control with diet alone. Went with that for over a year. She then decided I needed metformin. I've had no consultation with a dietician or anyone. I wasn't told to check my sugar level myself. I'm totally on my own."
Confidence is High, But Where's the Control?
Overall, the higher level confidence felt by patients who play an active role in treatment decisions is apparent through their attitudes and behaviors. But whether a person plays an active role in treatment or not, the majority of patients surveyed do not feel controlled on their current treatment plan. How can these learnings be turned into opportunities that improve the patient experience? 
Because this analysis looks at characteristics, attitudes and behaviors of those who play an active role in treatment at a large scale, results may vary by condition or therapeutic area. To better understand the nuances of specific patients, fill out the contact form on our Business Solutions page.
Health Union specializes in meeting people where they are in their condition journey by providing the information, connection and validation they seek. Through custom marketing research, community insights and media offerings, Health Union can help you engage with the people who will benefit most, and make smarter, more effective marketing decisions.
*Top 2 box on a 7-point scale
2019 Meta-analysis conditions include: atopic dermatitis, ankylosing spondylitis, asthma, COPD, cystic fibrosis, endometriosis, hepatitis C, HIV, IBD, IBS, macular degeneration, migraine, MS, Parkinson's disease, psoriatic arthritis, psoriasis, RA, and type 2 diabetes.