5 Ways to Make Your Pharma Marketing More Personal
Published January 20, 2021 | 4 Minute Read
Personalization in marketing–the practice of understanding and delivering content when and where people are ready to accept it–in any industry is key, but perhaps even more so in healthcare. If we've learned anything as marketers in 2020, this new landscape demands personalization to break through the noise and reach and engage with people during their unique health journey.
As pharma marketers, you are always searching for ways to provide accurate information about your product and package it in a myriad of different ways–all while facing many restrictions. Making sure your objectives and strategies are the most effective today–how you engage with patients, provide information, and make sure people have what they need–will be key to delivering results if you're keeping the wants and needs of people front and center.
Meet people where they are
It might be obvious to state that people are going online for their healthcare, but the numbers are staggering: 5% of all Google searches are health-related. And with nearly 1.1 million people connected with our online health communities on Facebook and Instagram and average Facebook engagement rates more than 22 times the average benchmark, the power of social media cannot be underestimated when it comes to health experiences.
Recent research published by Health Union and the University of North Carolina at Chapel Hill demonstrates that online communities can be an effective means for social support for individuals impacted by chronic and severe health conditions. Another Health Union survey of more than 2,200 patients found that adults with chronic health conditions are regularly looking to online resources for both information and emotional support. Nearly three-quarters of respondents used condition-specific websites for health information and support, and 65% specifically noted using Facebook.
Tried-and-true platforms like Facebook shouldn't be overshadowed by the latest and trendiest technologies like health and wellness devices and apps. A recent survey from Health Union found that 81% of respondents use at least one device to manage their health–however, only 24% agree that devices and apps help manage their health more effectively* (*Top 2 box on a 7-pt scale; 2020 Connected Health Survey).
Leverage all relevant online resources
With privacy being top-of-mind and new policies emerging, the challenge of being personal is further conflated and begs questions about how people will engage with content and react to digital marketing in the future. Within healthcare, the stakes are even higher for marketers to deliver personalized content without being intrusive. And in the face of a cookie-less world, going back to basics and understanding how to leverage online resources in advance of an evolving landscape will put you ahead of the game.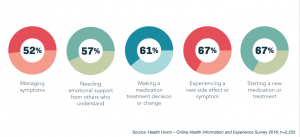 Anyone impacted by a chronic health condition can visit any Health Union site at any time and easily find the support, information and connection they are looking for. Health Union delivers unique content and tools to encourage, enable and evolve social interactions into valuable health conversations.
David Shronk, Health Union SVP of Media, has talked a lot about the post-cookies fate and the impact to pharma–check out his piece in DTC Perspectives.
Adjust your strategies to break through the noise
2020 challenged all of us in many ways, forcing us to rethink and revisit trusted plans and strategies on the fly. With Americans spending more time on screens than before the pandemic, marketers have the ongoing challenge to break through the noise and capture attention more effectively.
In order to reach and connect with someone experiencing life with a chronic condition, marketers are adjusting their pre-COVID strategies to be relevant today. Take the omnichannel customer journey for example: Omnichannel marketing puts the patient at the center. It recognizes that people like choices and this approach offers a seamless, unified experience that puts them at the center, not the product.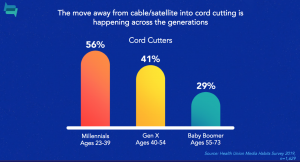 This shift to omnichannel due to a fragmentation of devices and attention span requires marketers to shift their thinking from determining which tactics drive behavior to understanding how the experience across all of the channels work together to drive behavior. Recent Health Union survey data shows 60% of people with chronic conditions use more than two devices to watch or stream TV. And it's not just Gen Z and Millennials–the move away from cable/satellite into cord cutting is happening across the generations.
Driving interest in a prescription therapy takes education and motivation, at a point in time when those messages are most relevant. Media habits have shifted and, given the environment, it's time for pharma marketers to think more critically about how to reach people. If commercial breaks equate to social media time and fragmented media drives fragmented attention that disrupts delivery, the solution is to integrate and connect the experiences.
Be present around interactive, personal content
Marrying TV viewing, online search and social in a way that is relevant to consumers' media habits – and the context that supports those habits – ensures pharma marketers can be there when people are open to accepting the messages. This ultimately exemplifies the understanding of what people want. Connecting the experiences, instead of pushing a message when the consumer isn't receptive, will be the difference between enhancing versus undermining consideration.
Health Union's online health communities not only offer a large repository of condition-specific information but the real and raw stories from others living with these conditions are the backdrop for providing the nuanced and personal content they want to not feel alone in their journey.
Real and raw stories from people living with chronic conditions are the backdrop for providing nuanced and personal content people want to not feel alone in their health journey. The video here demonstrates how Health Union's online health communities not only offer a large repository of condition-specific information but the right content that helps industry partners reach and engage patients in the most relevant and meaningful ways.
Put the person first
The COVID-19 pandemic has presented many obstacles, yet the healthcare industry continues to march forward to meet patients where they are. With physical distancing, new office protocols and the widespread use of telehealth, the patient experience is changing–particularly for people living with chronic conditions, who may require more regular access to care. With more access points, and more ways to reach people, pharma marketers have a great opportunity to put the individual person first and remain personal and supportive in health communications.
LungCancer.net advocate Lisa Moran made it clear in a recent virtual Q&A that she wants to hear about first hand treatment experience. She shared a story about a friend with lung cancer who was invited to speak on a panel about a stage I clinical trial. While her friend discussed her experience with the clinical trial drug, she was cut off by a doctor who began speaking about what it was like to take the drug, without having experienced it himself.
The same goes for advertising–when she has the chance, Lisa actively participates in advisory groups knowing that they may be used to develop messaging. The voice of the patient, including the real words used to describe their experience or a given product, have the potential to better resonate than the words someone without the lived experience thinks they would use.