FREE WEBINAR DOWNLOAD
Millennials and Health: 3 Ways Pharma Needs to Adapt to Attract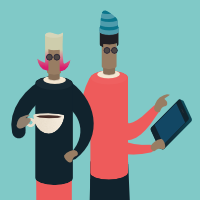 Did you know Millennials are more likely than Baby Boomers and Gen Xers to talk to their doctor about stopping or switching medication?*
Millennials are an increasingly important health segment and their fast, convenient, and connected expectations extend to their healthcare choices. In all aspects of their lives, including healthcare, the factors that drive decision-making among Millennials are vastly different from their generational predecessors.
Key takeaways from this webinar:
– Differences in behaviors between Millennials and older generations
– Factors that drive Millennials' healthcare decision-making
– Ways pharma can prepare for and meet these challenges
*IBD In America 2018, Multiple Sclerosis In America 2018, and Rheumatoid Arthritis In America 2018. Source data on file.